Avantika Sinha
Sep 04, 2012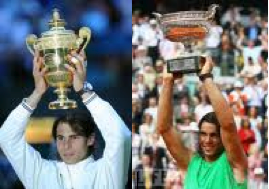 In the summer of 2008 Nadal had just won his fourth straight French open title. The Spaniard had never lost there but at the same time he had never won any other Grand slam title.
And he had been No 2 for years without coming anywhere near threatening Roger Federer's No 1 ranking.
As he headed into the grass court season Nadal knew that if he ever wanted to make headway against Federer's grip on the top slot something would have to shift. He would have to step out of his comfort zone on the slicker faster grass surface if was ever to win at Wimbledon.
Nadal started volleying more – and got passed. He started serving bigger – and generated more double faults. He started slicing more low backhands instead of double fisting them and hit a flatter ball on his groundstrokes instead of sending them back with looping topspin – and he repeatedly hit the tape. But he stuck with it and muscled through matches despite his attempts at grass court play rather than because of them.
When he reached the Wimbledon final at the end of the grass court season however – his third successive final against Federer, the dynamic had changed. Nadal was not (and never will be) a natural serve and volleyer. He stuck to his baseline counterpunching game for most points. But by then he had the range and flexibility so that on those rare occasions when he really needed to serve or volley or slice or hit through the ball…. he could. And when that was added to all his other strengths… it was finally enough.
He beat Federer in what many regard as one of the most pulsating finals ever to win his first Wimbledon title and then defeated Federer again a few months later to win his first grand slam title on a hard court surface at the Australian Open where he finally become the World No 1 (after a record 160 weeks at No 2). And then after recovering from knee problems in 2009 he again won the Wimbledon and French in 2010 to regain his top ranking and show the world that 2008 was no fluke.
No matter how good you are – there is another level you can go. And although the strengths that got you here will always be your foundation, they will not, by themselves, get you there. For that you will have to risk venturing out of your comfort zone to develop a greater flexibility and range of options.
What is your next level? Where do you need to go through to get there?